Baltimore Document Shredding
Baltimore Document Shredding is dedicated to providing economical shredding options for all of your sensitive information. We understand your desire to guard your important documents and for your business to comply with every Maryland and federal privacy regulation.
About Baltimore Document Shredding
Baltimore Document Shredding connects you to a network of shredding service providers that offer several flexible shredding services to Baltimore and the greater Maryland area. No matter the size of the job, Baltimore Document Shredding is here to help keep you secure with affordable shredding options.
Whether you're looking to ensure your business is compliant with federal and state laws or simply wanting to protect your and your family's personal information, shredding sensitive documents makes sense. Baltimore Shredding Services makes protecting your information easy and affordable, so you can have peace of mind.
The Hazards of Identity Theft
Identity theft is much easier to commit than most people think and causes more harm than most people imagine. Click here to learn more about the hazards of identity theft and how a shredding service can help safeguard your home and business from these threats.
Interested in learning more about protecting yourself with a shredding service? Simply fill out the form or give us a call at (410) 741-3557 for free quotes today! Baltimore Document Shredding's partners offer fast, affordable, and convenient services to suit all of your shredding needs.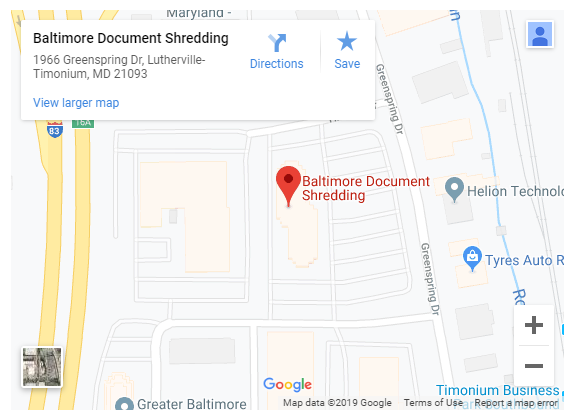 Get Your FREE Quote on Shredding Services in Baltimore!
Baltimore Shredding Services
Baltimore Document Shredding connects you with local contractors that offer several services to fit Maryland's shredding demands. Some of those services include:
Service Options Available in Baltimore
Our partners are happy to handle your shredding on an as-needed basis or as a regular, ongoing service. They conveniently schedule:
One-time Purge Services: This option works well for those who only have one or occasional shredding requirements. Costs are generally based off of the amount of documents you need shredded.
Ongoing Services: This service is convenient for those who have weekly, monthly, or quarterly shredding requirements. You are given free, locked shredding bins and your location is regularly visited to shred all documents from these bins.