The number of documents that should be properly shredded when being disposed of is immense — that's why we've compiled a list of potentially vulnerable documents for you. This list is not exhaustive, however, so it is important to consider thoroughly on your own which documents ought to be destroyed for your protection.
Businesses in Baltimore should especially have a detailed list of all documents that required shredding and regularly review with employees the policies and practices in place that describe how these documents should be handled. Lastly, store any materials that require shredding in a safe and secure place until your shredding service provider can take care of your needs.
Why Take a Chance? Shred It.
Accounting Documents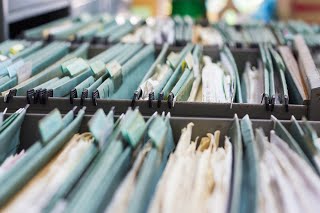 Accounting Records
A/R and A/P printouts
Bank Statements
Budgets
Unused Checks
Customer Lists
Credit Card Statements and Receipt
Employee-related Documents
Any document containing employee addresses or personal information
Training Manuals
Outdated Medical Records
Payroll Documents
Personnel Issues
Legal Documents and Documentation
Expired Contracts or Legal Documents
Insurance Agency Records
Legal Correspondence
Sales/Marketing Materials
Customer Lists
Prospect Lists
Drafts of Sales Strategies
Operations Information
Proprietary Data
Purchase Orders
Supplier Lists
Corporate Records
Procurement Requests
Hard Drives and Electronic Media Devices
Fax machines, scanners, copiers, and printers
Mobile devices like cell phones, smartphones, PDAs, tablets, and laptops
Legacy magnetic media like floppy drives, zip disks, and magnetic tapes
PC hard drives
Optical media, including CD's and DVD's
USB removable media such as pen drives, thumb drives, flash drives and sticks
Memory cards, including SD, SDHC, MMC, compact flash, microdrive, and memory sticks
Embedded flash on boards and devices, including motherboards and peripheral cards such as network adapters or any other adapter containing non-volatile flash memory
RAM and ROM-based storage devices
Biomedical devices such as physiologic monitors, infusion pumps, ventilators, MRI, CT, and diagnostic ultrasound and laboratory analyzers
Get FREE Quotes on Shredding Services in Baltimore and the Greater Maryland Area Today!
Don't run the risk of exposing yourself, your family, or your business to harm. Whether it's on site shredding, off site shredding, or hard drive shredding, Baltimore Document Shredding is ready to connect you to a network of providers with secure, fast, and reliable services that empower your ability to protect yourself from criminals. Please fill out the form to get started, or call us at (410) 741-3557 for more information. You'll receive a free, no-hassle quote and be well on your way to being protected!